Custom kitchens and cabinetry without the high street price.
Being able to offer high end handmade kitchens and cabinetry whilst not needing to factor in expensive rent and running costs means a huge saving. Examples of our work up close and personal can be arranged along with visits to the stone yard where past clients have handpicked their perfect natural stone slab to finish off the ultimate Rock N Roll design.
working from home?
With many companies now making the decision to reduce the number of staff within the work place more and more people are opting for a home office or study to carry out the 9-5 grind. So, if you have a redundant space that needs some love why not ask us to create a comfortable and functional workspace for you?
After all, there is only so many times you can tread on Lego throughout the day!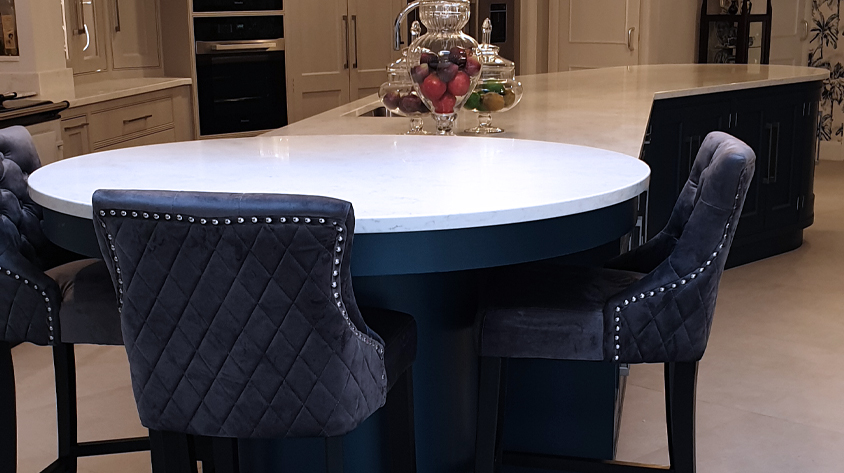 what our customers say…
We first met Emma back in 2002 and since that time we have worked with her on various projects from compete new kitchen design and installation and subsequent re modelling in our main residence but also in some renovation projects we have done on other properties. Emma has helped us here not only with kitchen design and installation but with complete fit outs of wardrobe and storage solutions for the whole house. I have recommended Emma to my friends who have also become advocates of her work . Emma always takes care of every detail which consistently produces a great finish that absolutely lasts the test of time. We have always found it a pleasure to work with her and her team

Mr & Mrs P
gallery page
Beautiful handmade kitchens, boot rooms for muddy wellies & dogs, a quality space to work from home or somewhere to store another pair of shoes you didn't really need!
Take a look at our gallery page to see what we have been up to!